20foot Side Tipper Dump Trailers
20foot Side Tipper Dump Trailers
zw trailer

Shandong, China (Mainland)

20-30days

300 sets/month
20foot side tipper dump trailers are used for transporting containers,usually the length of the side dump trailer is longer than rear dump trailers.We can make more than 300 sets of side tipper trailer every month,also we have 20foot side tipper dump trailers in stock for prompt shipment of urgent from clients.
Our 20foot side tipper dump trailers sell very well in world market.Also we can make side tipper trailer according to clients' detailed needs.Just let we know your specific needs,we will be your reliable supplier of side tipper trailer.
Description:
The cylinder of the 20foot dump trailer is made from the manufacturer, and its material strength is different from that of the ordinary cylinder, and the warranty is one year. The rear panel of the car is locked with mechanical means.The cargo volume of the car can reach 45 square meters (non-standard 65 square), and the weight can reach 80T-100T, which greatly improves the working efficiency. It is the replacement product of the first four after eight and the side-turning self-unloading (the first four after eight pull 25 square). The long life of the first four and the last eight years is no longer enough, and the ten-meter-turned large frame is no problem for ten years because of its different structure.
Side tipper trailer beam height 500mm, upper wing Plate 16mm, lower wing 18mm, web 10mm, side beam 18# channel steel, commonly known as 10# channel steel, 6 bottom channel, bottom plate 2.75mm pattern.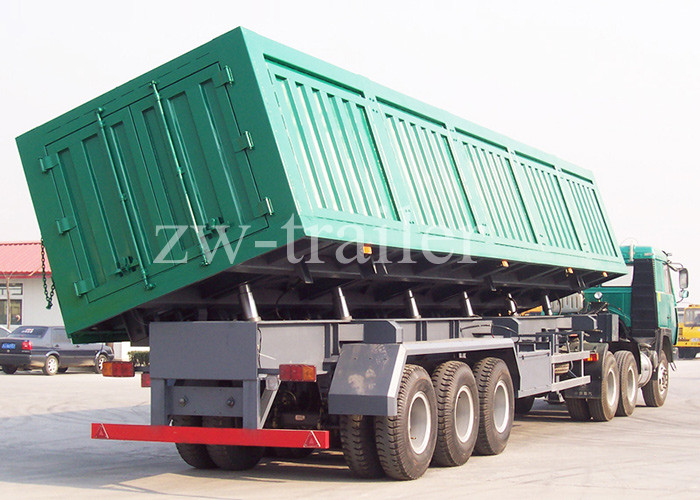 Product detail:
20foot side tipper dump trailers are used for tipping of 20ft container or other goods.Side tipper trailer is of good quality,we use carbon steel Q235 or Q345 or T700 or other material as clients' needs.Our 20foot side tipper dump trailers enjoyed very good reputation worldwide especially in African countries.
For shipment,we use frame,bulk or ro-so shipment,ro-ro shipment can protect the side tipper trailer well to avoid seawater erosion.Warmly welcome your inquiry about our side tipper trailer.