40ft Extendable Heavy Duty Low Bed Trailer
40ft Extendable Heavy Duty Low Bed Trailer
zw trailer

Shandong, China (Mainland)

20-30days

300 sets/month
40ft extendable heavy duty low bed trailer is commonly used to transport heavy-duty vehicles (such as tractors, buses, special vehicles etc.), rail vehicles, mining machinery, forestry machinery, and construction machinery (such as excavators, bulldozers, loaders, cranes etc). and other heavy-duty cargoes, the lower the center of gravity, the better the stability and safety, the stronger the ability to transport ultra-high cargo and obstacles through the head.Extendable lowboy trailer is for shipping heavy and long cargo.
According to the number of axles, the size of the tires, the load capacity of the heavy duty low bed trailer is also different. The more the number of axles, the larger the load, and the load range of the extendable lowbed trailer is between 20-150 tons.
Description:
Features of our 40ft Extendable heavy duty low bed trailer:
1. Main Frame adopts Q690E steel, high box shape, high strengt not easy to deformation, good ability for concentrated loading.
2. The connecting between unit module and unit module is multiple plates. The advantage as follows:
High connecting strength, not easy to break,convenient combine, shorter combine time.
3. Suspension frame and balance arm is welding structure, high strength, delight appearance.
Our extendable lowboy trailer is for heavy duty transport.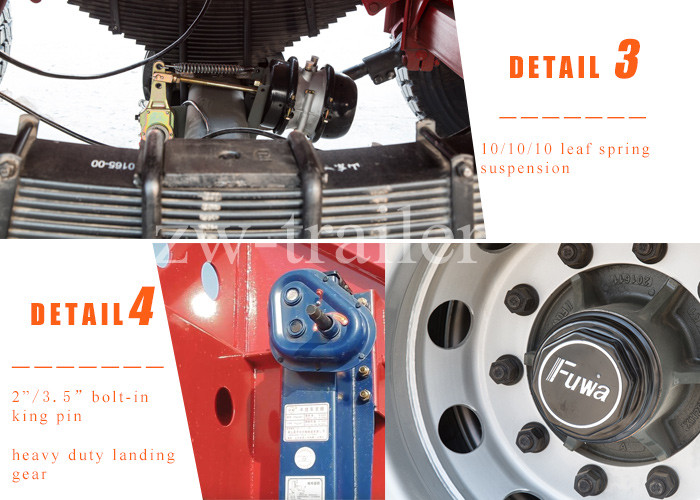 Main parameters:
| | |
| --- | --- |
| Wheelbase (mm) | 1550 |
| Trend (mm) | 1820 / 735 |
| Quantity of tires | 8 tires / axle line |
| Tire specification | 215/75R17.5 |
| Rim specification | 6.00 – 17.5 (10 holes) |
| Approach angle (degree) | 20° |
| Departure angle (degree) | 26° |
| Minimum ground clearance | 148 |
We offer our clients best quality heavy duty extendable lowboy trailers,Steel welding procedures qualified by SGS according to EN ISO 15614-1:2008 with Q550 steel.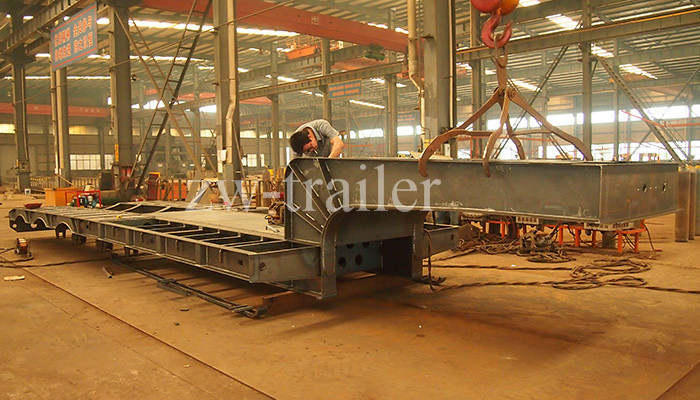 Steel structure warranty for 10 years from delivery. And spare parts warranty for One year.
Quotation including 7 days commissioning and training course in buyer's site for free.
Welcome inquiry from all over the world!