Pneumatic Bulk Cement Tanker Trailer
Pneumatic Bulk Cement Tanker Trailer
zw trailer

Shandong, China (Mainland)

20-30days

300 sets/month
1. It is suitable for transportation and pneumatic discharge of dry materials with particle diameter less than 0.1mm, such as fly ash, cement, lime powder and ore powder.
2. Its Air bag type inside has large load capacity, fast unloading speed and small residue.
3. The integrated tank has the characteristics of high overall strength, good rigidity, good bearing capacity and good service performance.
Description:
The pneumatic bulk cement tanker trailer is for powder material, dust material, bulk cement transportation. Its volume is generally between 35 and 45 cubic meters. Meanwhile, we can customize its volume as request, from 35 cubic meters to 80 cubic meters.
Product Features:
Axles and wheels: There are 2-4 axle assembled with the same structure under the suspension system. The axle is a square tube axle. The axle body is equipped with a platform for installing leaf spring suspension and a brake chamber brake support. The axle head is used to install wheels, hubs and brakes.
Suspension system: The suspension system is a three-axle leaf spring suspension. The leaf spring suspension system is fastened to the axle body with U-shaped bolts. Air bag suspension is optional.
Support device: In order to make the semi-trailer parked reliably after leaving the tractor, two supporting devices are installed at the front end of the frame.
Brake and its operating device: the tanker trailer adopts double pipeline pneumatic braking system with anti-lock braking system (ABS)
Electrical System: the tank trailer has an international general electrical system suitable for tractor.
External Power and Air Compressor: 4100 Engine and Air Compressor ensure sufficient air pressure during unloading.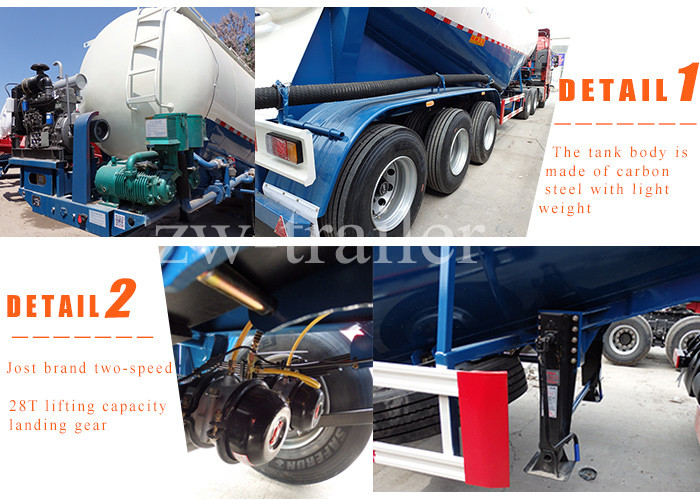 Specification




Loading Capacity

56 Ton (45CBM volume)




Dimensions (LxWxH)

11500*2500*4100mm




Shape

V shape




Tank body

Q235 steel, 5mm thickness




End plate

Q235 steel, 6mm thickness




Engine

Diesel engine:weichai brand, model:4102




Compressor

Bohai brand 12m3, double-cylinder




Discharge valve & pipe

4" disc valve & 4" seamless steel tube




Air-charging system

2" main hole. 2" check valve.1.5" safe valve. 0.4Mpa gauge




Quadratic blow

1" diameter check valve




Discharge cover

2-4 sets of 100mm discharge valves




Manhole cover

Dia500mm manhole cover 2 sets with 2 breather valve

Trailer Chassis




Wheelbase

7180+1310+1310mm




Steel Spring

10 pieces per axle, 90*13mm




Spare Tire Carriers

2 pieces




Water Tank

As client's demand




Light

Tail lamp with turn signal, brake light & reflector, side lamp etc




Painting

1 coat of anti corrosive primer, 2 coats of final paint; color as client's request

Frame: (specs. and materials)




Main beam

The height of the beam is 500mm;

Down plate is 16mm; Middle plate is 8mm.

Brake:

Brake Chamber

Six big chamber




Brake system

Dual Line Brake system with ABS

Others:

Discharge Speed

≥ 1.5 ton/min




Residual

≤ 0.2%