Cement Bulker Powder Tanker Trailer
Cement Bulker Powder Tanker Trailer
zw trailer

Shandong, China (Mainland)

20-35days

300 sets/month
The tank has a cylindrical appearance and the head is hemispherical form, which improves the pressure resistance of cement bulker powder tanker trailer. At the same time, the tank and metal accessories are treated by shot peened, which is less prone to cracking, peeling and fading and prolongs the service life of the tank.
Our company specializes in the production of all kinds of tank trailers for a long time, providing a full range of services from pre-sales to after-sales. We can provide professional advice and guidance according to your needs.
Description:
Powder tanker trailer is suitable for transportation and pneumatic conveying of fly ash, cement, lime powder, mineral powder, etc. The particle size is not more than 0.1mm, and the vertical height of unloading is up to 15m.
Main parameters: Following are the main specifications of our cement bulker truck trailer.
The material of main beam

The height of the beam is 500 mm, upper plate

is14mm,down plate is16mm,middle plate is 8mm

Tank thickness

5 mm, end/front 6mm

Axle Brand

Standard 13 ton FUWA brand

Axle Number

3 units

Suspension system

Common Mechanical suspension

Leaf Spring

-/10/10/10 leaf spring suspension

Landing Gear

Standard single speed 28ton

Tire Type and quantity

12R22.5 tubeless tires

Compartment

One, With 2 manholes

Traction Pin

50mm or 90mm

Spare Wheel Carrier

2 piece

Tool Box

1 standard

The diesel engine

Weichai 4102 or 4105

Air compressor

Bohai 12 CBM/min
cement bulk trailer in production: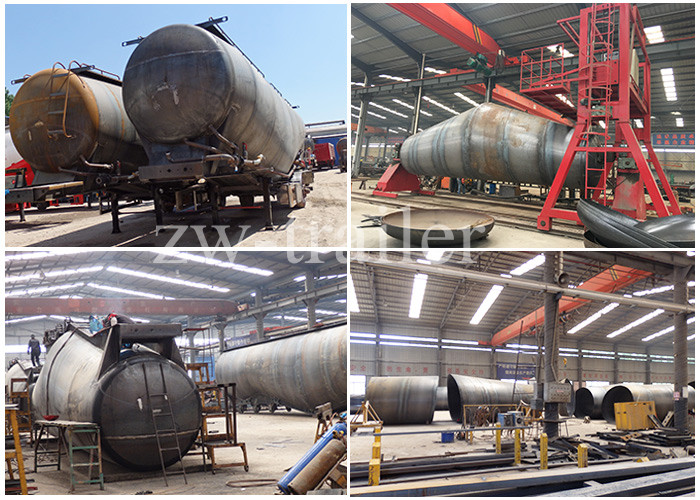 Product details:
Our cement bulker powder tanker trailer is made with domestic advanced technology, the design is sturdy and durable. The air bag type has a large carrying capacity, and the discharging speed is fast and the residual amount is small.
The integrated synthetic tank has the characteristics of high overall strength, good rigidity, good pressure bearing and good performance.
The fluidized bed in the tank has a scientific design and reasonable layout. It can effectively shorten the discharge time to 1.4T/min, improve the volume utilization of the powder tank, reduce the residual ash rate, and the residual ash rate is 0.2%.The cement bulker powder tanker trailer adopts double cone inner tilting horizontal structure, double pipe air intake and double cylinder feeding, and its discharging speed and residual rate are in line with industry standard requirements.Always waiting for your inquiry and warmly welcome your visiting!