Brands Sales Diesel Fuel Tanker step deck lowboy Trailer Suppliers
Diesel Fuel Tanker Trailer
zw trailer

Shandong, China (Mainland)

20-35days

300 sets/month
Because the tanks are basically sealed containers, which are less affected by the external environment and climate conditions, the goods can be better protected during transportation.
Transport by tanker trailer is easy to realize mechanization of loading, unloading, transportation and storage. It not only saves labor, but also saves a lot of packaging materials (cans, altars, bags, boxes, etc.), which greatly reduces transportation costs. Meanwhile, it reduces labor intensity and improves loading and unloading conditions.
It can be separated into independent compartments inside, to load different oils, chemicals and foodstuffs liquid.
Brands Diesel Fuel Tanker Trailer,Sales heavy duty,step deck trailer,lowboy trailer Suppliers
Description:
The diesel fuel tanker trailer is usually made of carbon steel, stainless steel, rubber lining, rolling tank, aluminum tank etc.
The tank body is equipped with anti-impact plate, manholes, liquid outlet valves, and other necessary parts.
The diesel fuel tanker trailer is mainly consist of two parts. One is tank part, and the other is skeleton trailer.
The rear part of tanker trailer is basically same. It has 2 axle or 3 axle even 4 axle.
Product Features:
The tank body is made of 4mm or 6mm high quality carbon steel, stainless steel or aluminium alloy. The tank body is elliptical or square round shape. It can load 1-4 kinds of oil products.
The tank body is provided with multi-channel wave-proof baffles.
High pressure gas leak test is adopted to make the tank body with high strength, stable gravity center and safe transportation.
pumps can be selected according to the use of tanker trailer.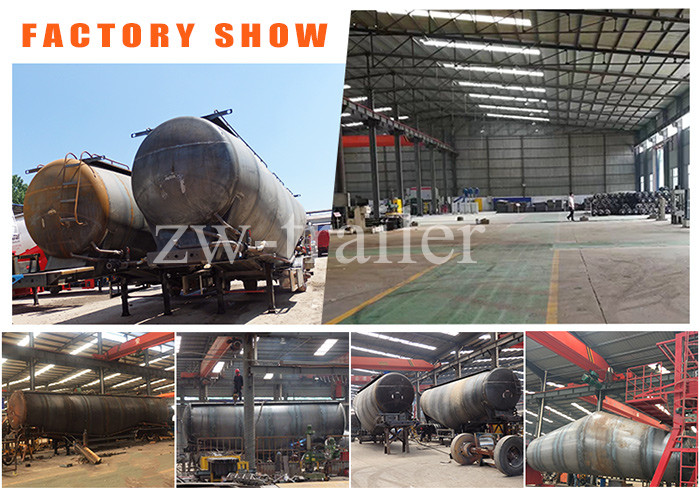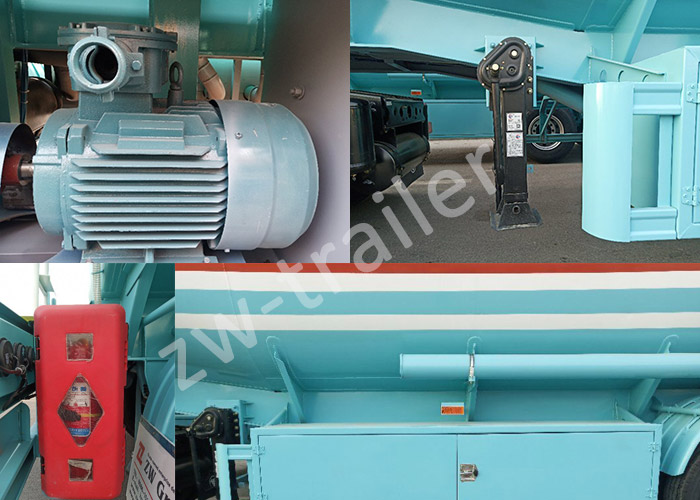 | | |
| --- | --- |
| Model Name | 54 cubic meters oil tank trailer |
| Function | Transport diesel, gasoline |
| Overall Dimension | 12500*2500*3800mm(L*W*H) |
| Volume | 54 m3 |
| Tare weight | 10000KG |
| Tank Body Material | Carbon steel |
| Thickness | Tank body 4mm, end plate 5mm, anti-wave plate 4mm |
| Compartment | 4 |
| Manhole cover | Dia 450-500mm manhole |
| Bottom Loadíng System | Available, optional |
| Oil gas recovery system | 4 sets |
| Emergency bottom valves | 1 pc |
| Discharge valve | 3'' disc valve, 4pcs |
| Overfill/empty sensor | 1 pc (optional as your need) |
| Level monitor | 1 pc (optional as your need) |
| Water Tank | Without. On top if need |
| Valve Box | 1 pc |
| Tool box | 1 pc of standard tool box (steel box) |
| Tank Roof Guardrail | Standard fixed guardrail |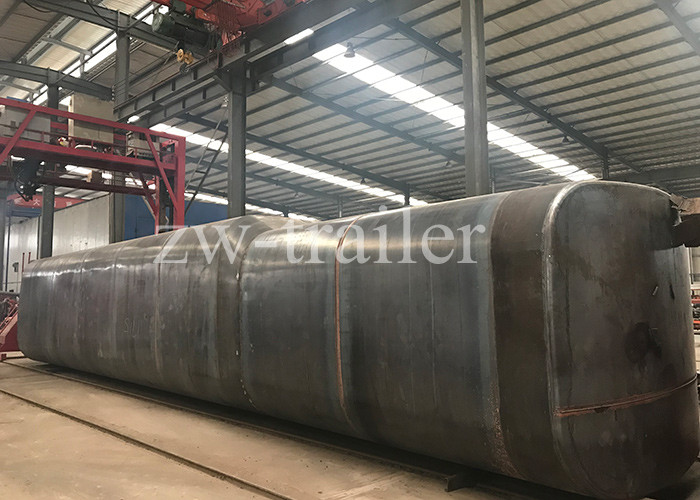 Related Products